Harlequins RL inflicted a 56 points to nil defeat on neighbours London Skolars this afternoon at the Royal Artillery Gardens, Moorgate. A sell out crowd, predominantly made up of local city workers, saw a strong Quins side dominate the annual pre-season London Club Challenge.

Both clubs fielded expanded sides, allowing the coaches to experiment with different combinations, both halves of the game featuring a short break after twenty minutes to allow reconfiguration of the line-ups.

As to be expected from the first pre-season game of the year early exchanges saw some rusty handling, but it took a rejuvenated Scott Hill just four minutes to bag the first try, with a jinking run flat footing the opposition defence. Three minutes later Jon Grayshon's angled run hit a hole in the Skolars midfield, arcing round to go under the sticks for the second try. Henry Paul added both conversions and the signs looked ominous.

Ten minutes in debutant Quins centre David Howell crossed but was pulled back for a forward pass in the build-up. The respite was short lived when fullback Mark McLinden made a break down the left flank before putting in a smart chip kick behind the retreating Skolars defence, Louie McCarthy-Scarsbrook, operating out of the second-row, was quickest to the loose ball to collect his try.

A reshuffle of creative options saw Danny Orr, Hill and McLinden temporarily giving way to Julien Rinaldi, Michael Worrincy and academy halfback Dylan Skee. Although Quins continued to dominate the game there was a marked difference in the speed of decision-making, with the attacking patterns at times becoming over elaborate and lacking the directness and cutting edge of the first twenty.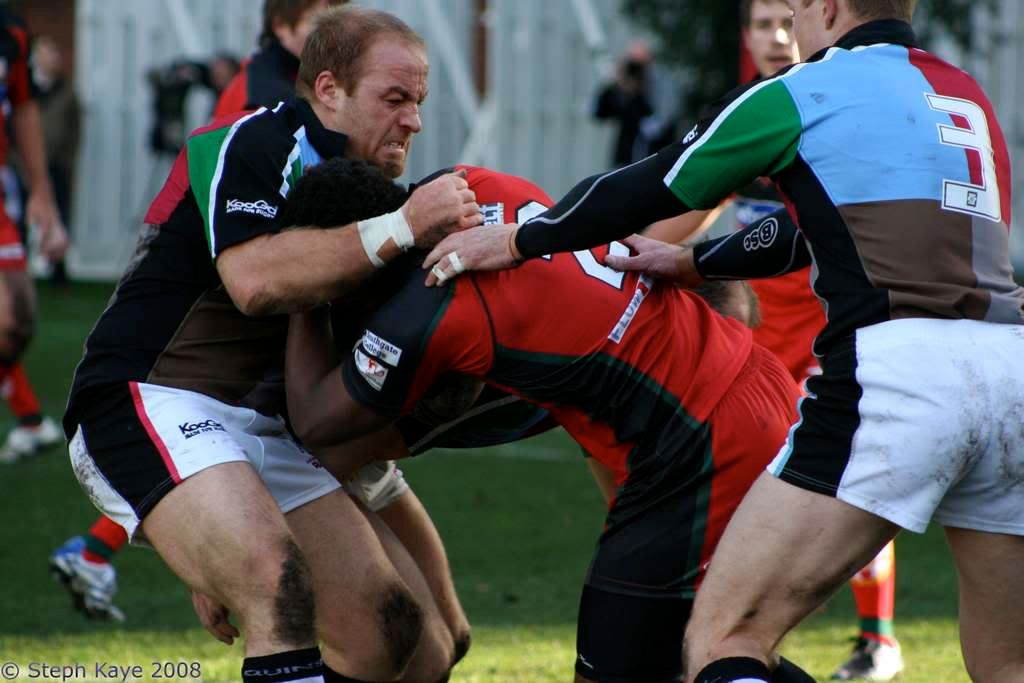 Rinaldi was next to pick up a try, scooting from dummy half the ball was stripped from his grasp but bounced kindly allowing him to re-gather and scamper over the line. Skee took over the kicking duties from Paul to add the conversion.

Just after the half hour mark Skolars centre Dene Miller produced his side's best chance, a well worked move from the back of the scrum saw him slice through the Quins defence, only to be called back by a harsh forward pass call.

Young Quins winger Will Sharp, recently promoted to the first team squad, piled on the agony for Skolars, coming in field to burrow his way over a minute shy of the break. Skee converted to close the first half at 30 – 0.

Quins returned from the break all guns blazing, centre Tony Clubb's powerful run saw him cross for a try in the left hand corner, followed in quick succession by two almost identical tries from winger Rikki Sheriffe on the opposite side. Skee added two conversions from three attempts and it looked as if the floodgates had burst on the Skolars.

However, the National League Two side managed to compose themselves, putting in a solid defensive spell to shut out Quins for almost a quarter of an hour, till Orr's lively performance was rewarded with a try on the hour mark.

At 50 – 0 it appeared the Skolars were dead and buried, but the final quarter saw Quins ease off allowing the North London side to produce some of their best attacking rugby of the afternoon. Unfortunately despite stepping up the tempo the Skolars lacked the cutting edge needed to breach the Quins parsimonious defence, several promising attacks breaking down on the final play. Ultimately the second half finished in the same fashion as the first with a ruthless late score from Quins, Dwayne Barker's storming run connected with Worrincy's deft flick pass to crash over just before the final hooter.

In the final analysis Quins simply had too much power and pace for their part-time neighbours, Skolars deserve full credit for maintaining the commitment to keep the tie competitive throughout and can feel very unlucky not to have put any points on the scoreboard.

The Quins coaching staff will be pleased to see the match pass off without any serious injuries, with debutants Barker, Howell and Ward all slotting in well. However, questions will be raised about whether today's game and the friendly against Celtic Crusaders on Saturday will leave the side match hardened enough going into the season opener against Wigan on February 9th.

London Skolars: (0) 0
Tries:
Goals:

Harlequins RL: (30) 56
Tries: Hill, Grayshon, McCarthy-Scarsbrook, Rinaldi, Sharp, Clubb, Sheriffe 2, Orr,
Barker
Goals: Paul 3, Skee 5

* Photos reproduced by kind permission of Steph Kaye